REFURBISHMENT POWDER COATING
Cast iron radiators looking a touch chipped, worn and unloved? Garden Furniture taken too much exposure to the British weather? Our refurbishment process will bring a fresh new look to your beloved furniture with an outstanding, long lasting finish.
POWDER COATING CAST IRON RADIATORS
Starting with shot blasting using chilled iron grit, we strip away old layers of chipped paint and reveal the original metal. After cleaning and degreasing the radiator is ready for powder coating. There are a multitude of powder coating colours and finishes to match your interior decoration!
GATE AND RAILING RESTORATION
Revive your tired garden gates, railings and driveway gates. By shot blasting to remove old paint and impurities and followed by a new powder coated finish, your exterior ironwork and gates can be restored to their former glory, no matter how many layers of paint and years of service! Restored ironwork will become a real asset to your homes exterior.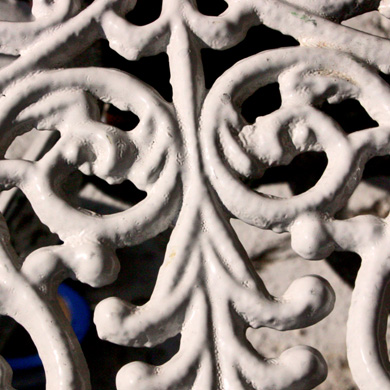 GATE RESTORATION PROJECT
"I just wanted to say thanks very much for the wrought iron gate refurbishment you carried out for me earlier this year. They have had many many comments of approval and praise over the last few months which has been great....especially being positioned on a listed building in a very prominent position in a conservation area. Both the planning and conservation officers have also highly praised the gates. "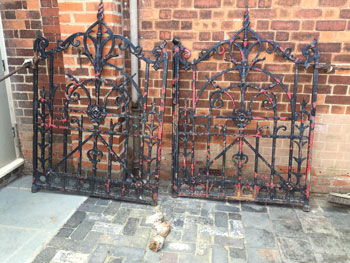 Step 1 - remove and prepare gates
Step 2 - restore and powder coat gates
Step 3 - rehang refurbished gates
GARDEN FURNITURE RESTORATION
Traditional cast iron garden furniture remains a mainstay of the outdoor scene. Long lasting and sturdy but prone to wearing and exposure, your cast iron garden furniture can be given a new lease of life thanks to shot blasting and powder coating. A new long lasting finish in a variety of colours will give you garden furniture which will serve you for years to come.