ABOUT LANGLEY COATINGS
Established in January 2010 on the outskirts of Ashbourne, Derbyshire by Sarah & Philip Spencer. Originally set up to powder coat gates manufactured by sister company Langley Gates, the company was expanded to fill a niche in the marketplace for a quality, professional regional powder coating provider.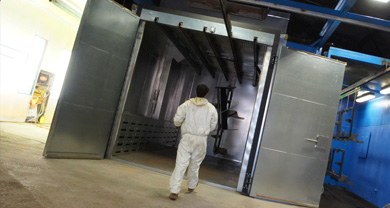 LARGE OVEN
Amongst the largest box ovens in the area at 6.1m x 2.5m x 2.8m with multiple wheeled jig frames capable of accommodating articles weighing up to 1800kg
POWDER COATING
OUR FACILITY
Our recently upgraded facility provides the complete preparation, pre-treatment, powder coating and finishing facility. Our gas powered RDM oven is a massive 6.1m deep, 2.5m wide and 2.8m high.
Similarly sized preparation, shot blasting and powder coating booths ensure that our facility is one of the largest and most capable units in the region.
OUR HISTORY
Having established a fabricating Derby metal gates company - Langley Gates and Railings in 2003, we created demand for powder coating services for our products. When our regular local powder coating facility closed down we opted to establish our own powder coating unit based on quality and value for money. This saved the frustrations faced in having to travel distances to get products finished to the quality we expected.
In addition to powder coating we offer shot blasting services, pre-treatment facilities for galvanised products and even a collection and delivery service.
EXCEPTIONAL QUALITY STANDARDS
Our varied nationwide customer base will attest to the levels of service we offer. Featuring both nationwide fencing contractors and regional fabrication firms together with private clients.
Our aim is to offer a fast turnaround for contracts on ready stocked colours. With the addition of our shot blasting facility, we can truly offer a complete service.
CUSTOMER CARE
Our experience with our own fabrication company has enabled us to gain an unparalleled understanding of the needs of contractors who are often working to tight deadlines. This has enabled us to tailor our service to particular requirements.