OUR PROCESS
From preparation through to curing, our modern facility caters for the entire powder coating process. With expansive booths and ovens capable of finishing even the largest fabricated products and an attention to detail ensuring the smallest of parts is perfectly coated, you can be confident Langley Coatings will supply the service you demand.
GALVANISED
A dedicated process of pre-treatments allows powder coated finishes to be applied to a variety of surfaces including galvanised steel.
PRE-TREATMENT
HOW IT WORKS
Using an electrostatic spray gun the powder material is applied to the parts. The powder is fluidised before being sent to the gun which separates the individual grains of powder, improving the electrostatic charge that can be applied to the powder and to allow it to flow more easily through the gun.
As the powder particles are electrostatically charged, the powder loops around to the back of the product, passing by an air offtake system. This also collects and filters excess powder creating an incredibly efficient process.
The powder no remains "stuck" to the application part as long as the electrostatic charge remains.
After heating in an oven at temperatures of between 160° and 210° the powder obtains its tough, smooth aesthetic finish.
The thermosetting powder goes through 4 stages during the heating process to achieve the final cure.
Melt
Flow
Gel
Cure
The final finish and textures can vary from a flat matt to very high gloss or feature a ripple or antique effect as required.
THE POWDER COATING GUN
Our Wagner powder coating guns use an electrostatic charge, generated by mains power.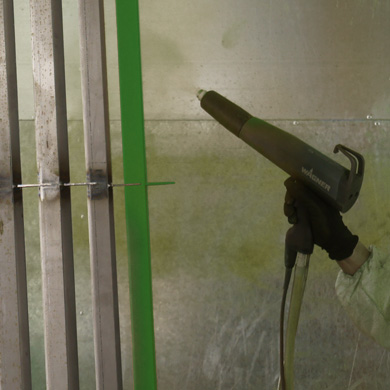 HOW COLOUR IS INTRODUCED
During the manufacturing of the powder material, colour is introduced. This allows for consistant colour during application. At Langley Coatings we only use high quality powders from reputable manufacturers ensuring first class standards.
DEGREASING
From a straightforward wipe down with degreasing liquid to vapour cleaning. The surface dries quickly to allow quick powder coating.